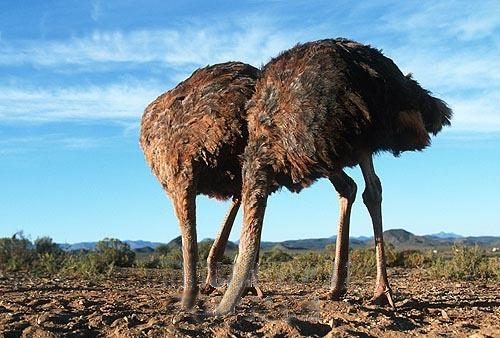 Ostriches sticking their heads in the sand
(digitally constructed image)
In popular mythology, the ostrich is famous for hiding its head in the sand at the first sign of danger. The Roman writer Pliny the Elder is noted for his descriptions of the ostrich in his Naturalis Historia, where he describes the ostrich and the fact that it hides its head in a bush. There have been no recorded observations of this behavior. A common counter-argument is that a species that displayed this behavior would not likely survive very long. The myth may have resulted from the fact that, from a distance, when ostriches feed they appear to be burying their head in the sand because they deliberately swallow sand and pebbles to help grind up their food. Burying their heads in sand will in fact suffocate the ostrich.
There has never been an actual photograph, but there have been many illustrations.